Henson Stables
A Brief History
---
During the first quarter of the 1900's, Wiz Henson bought a homestead on the west side of Kenney Illinois, located just eight miles east of the geographical center of the state. His wife, Ina, had come to this region on a covered wagon. The horse barn built in 1938 remains in use today. Wiz was a horse and livestock trader, traveling and dealing with all sorts of people. He became known for his lively conversation, cigars, and his keen horse sense. Wiz and Ina had six daughters and in 1920, their only son, Harold, was born. Harold quickly earned the nickname of Buz. As he grew, Buz followed Wiz all over and learned the tricks of the trade. As a young man, Buz became known for his fast talking, horse trading, horse sense, auctioneering skills, and his beautiful palomino horse named Pal.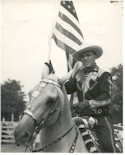 Early in the 1950's, Buz worked for local rodeos and wild-west shows. He was often seen in Farmer City's McKinley's Rodeo, carrying the American flag on beautiful Pal. Then he started his own rodeo, first called Henson's Hollywood Rodeo, then Henson's Silver Dollar Rodeo and Wild West Show. The rodeo traveled throughout the Midwest thrilling crowds.
Meanwhile, out in California, there was a young woman with Wild West dreams of her own. Born in Pasadena and raised in the mountains, Marie Dolores Schumacher was nicknamed Mousie by her father. She had an exciting career, working on movies as a stunt rider, hanging from her teeth in the Clyde Beatty Circus, and trick riding and roman riding in various rodeo and fairs.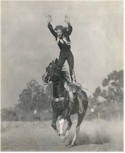 Mousie was the trick rider using the name of Dolorez in a traveling show with Rex Rossi called the "South of the Border Show." She called herself Dolorez Chamberz so people would think she was from Mexico. The show did well in the beginning and traveled across the nation. However, by the time they started traveling through Iowa, the show came to financial troubles. The Silver Dollar Rodeo was showing nearby. Buz hired several of the South of the Border acts. Mousie was one of the performers that went with the Silver Dollar Rodeo.
Mousie and Buz soon became husband and wife. Each had been married before, and Mousie had a son named Robin Chambers. The marriage between Mousie and Buz lasted until Buz's death in 1993 and produced one daughter named Penny. They continued to travel throughout the country, living on the road at times, and living and working in states like Mississippi, Texas, and California. They continued to promote the Silver Dollar Rodeo through the Midwest. When Penny reached an age where she needed to be in school, the Hensons made a permanent home on the Kenney homestead and just worked the rodeo in the summer months.
It didn't turn out to be financially lucrative to have a rodeo part time when the bulls and broncs had to be fed full time, so the rodeo was eventually sold. The stables in Kenney became active with riding lessons taught by Mousie, and horse trading by Buz. They each started different careers as well. When Penny was a teenager, some of her friends who were taking riding lessons finally talked Mousie into teaching them to trick ride. So a new generation of trick riders emerged. In the late 60's and early 70's they performed in many central Illinois fairs and rodeos. As time wore on, many of the students found other priorities. Penny continued to trick ride and roman ride until she started having a family of her own, with her daughter Tara, and step-sons Chris and Jay. Penny was teaching her own riding lessons along with keeping busy with various other jobs and family duties.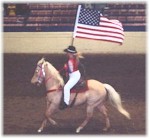 In the 90's, Penny was divorced and began teaching lessons as a full time job, while trying to go back to college to further her degree. Soon, her students talked her into teaching them a few tricks. This is when the newest generation of trick and roman riders began. Involving the help of one of her friends who trick rode with her during the 60's, Paula Nelson, this group of students evolved into the beginnings of the performing troupe you see today.
Today, life is good for those involved with Henson Stables. In 2002, Penny married Chuck Dunning. With the help of Chuck, his kids, and many more friends and co-riders, the troupe, calling themselves the "Silver Dollars," trick rides, roman rides, and performs fantastic drill routines in rodeo, fairs, and many other events. To learn about all these important people now involved with Henson Stables, check out other areas of this site, like drill team and trick riders. To add to the history, or to make comments, please contact Penny at hensonstables@gmail.com . And thank you for your interest.
Click Here to enter the Photo Gallery
Links to our friends: